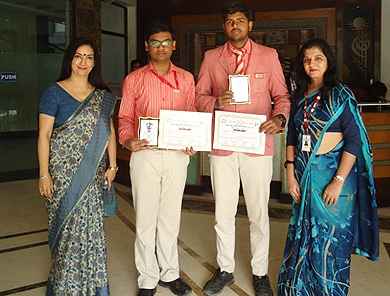 VBPSites brought laurels to the school by
winning "Bharat Ko Jano" Quiz Competition
organized by Bharat Vikas Parishad at State Level in Doon Public School, Paschim Vihar on Nov 18, 2018.
The students were required to don their thinking caps and utilise their knowledge about the ancient and modern glory of India, its glorious history and culture, literature, geography, natural resources etc to compete against the best.
Durgeshwar Mahto of Class XII-B and Subhodeep Paul of Class X-B bagged the second position and received a certificate and memento. Principal, Dr. Amita Saxena, congratulated the winners and lauded the efforts of the students.