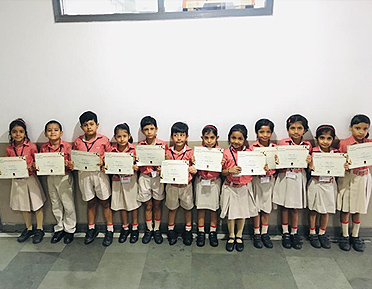 'The desire to write grows with writing.'
With an aim to instill the habit of writing neatly, Hindi – Calligraphy Competition was conducted in Grade II. All the students actively participated and showed their interest by writing beautifully in their notebooks.
Children were asked to write a paragraph which was being assessed on the basis of formation of letters, spacing of letters, spellings, neatness and appropriate usage of punctuation marks. The best ones were appreciated for their efforts.
The result of the competition is as follows:
II A
1. Naina
2. Anant
3. Aryan
II B
1. Mansha Gupta
2. Ansh Yadav
3. Arjun Mittal
II C
1. Bhavika Sharma
2. Aarna Daga
3. Ramanya
II D
1. Aadhya Singh
2. Ananya Bhatia
3. Sashi