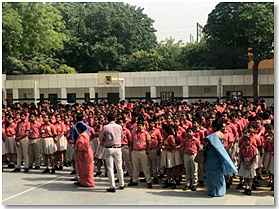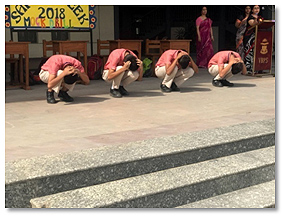 We are all aware of the havoc created by 'NATURAL DISASTERS' when they strike, as there is no prior warning. Therefore the need of the hour is to 'Be Prepared' at all times. To overcome the obstacles that might arise during evacuation if a natural disaster strikes, VBPS PaschimVihar,
organized an earthquake mock drill under the 'VBPS- Safety First Week' in the school premises on 18th May 2018.
Prior to the commencement of the exercise, the teachers were divided into various teams viz, School Disaster Management Committee, Awareness Generation Team, Warning and Information Dissemination Team, Evacuation team, Search & Rescue Team, First Aid Team, Fire Safety Team, Site Security Team, Bus Safety Team & Team for Students with special needs.

Students & staff members practiced ' ' exercise in the class rooms. after watching a demo .Evacuation operation began after the hooter alerted the students. The students immediately evacuated their classrooms and gathered in the school ground along with the teachers at the places earmarked after hearing the hooter. Head count was done by class teachers. Search and Rescue Team Information Generation Team and First Aid Team of the school conducted awareness generation activities like skit, talk etc. All teams worked in accordance to the work given to them.

Students and faculty members learnt life saving tips from the drill. The conclusion drawn was : Mock Drills are helpful in being prepared for a mishap and teach us to be calm, act in a planned manner and avoid chaos so that a smooth transition can be made with minimum hassle.